Credit Card Bankruptcies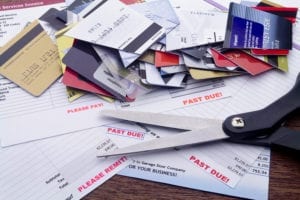 One of the main reasons that people file bankruptcy today is because of credit card debt.
Lowering credit card debt, lowering credit card payments, or completely eliminating credit card debt through bankruptcy is subject many people research on the Internet.
However, simply by googling credit card bankruptcy, or lowering credit card debt or lowering credit card payments results in a bewildering array of different kinds of advice.
As a Cincinnati and Dayton, Ohio bankruptcy attorney, I have helped thousands of people eliminate credit card debt through filing bankruptcy, sometimes referred to as credit card bankruptcy, and helped them rebuild credit after eliminating the credit card debt.
I do not advocate filing bankruptcy to eliminate credit card debt in all cases.
Only by a thorough and careful analysis of all your facts and circumstances can the right strategy be determined.
In fact, I've counseled many people who filed bankruptcy to eliminate credit card debt – only to determine that I probably could have helped them avoid a bankruptcy if they had come me sooner.
Bankruptcy does eliminate credit card debt, but it's not the only method to deal with your credit card payments. Sometimes you can negotiate with creditors directly.
Occasionally you can negotiate lower interest rates, sometimes even 0%, and lower payments.
Less frequently, you can actually get creditors to voluntarily forgive some of the debt.
This is generally not possible unless you have become delinquent in your credit card payments.
Normally, if you contact the creditor and your credit card payments are up-to-date, you will not be able to get them to help you at all.
This is where debt arbitration, or debt management plans come in. I am a certified debt specialist, and debt arbitrator, and I sometimes help my clients resolve their credit card debts in this way.
In debt settlement, you normally pay money into an account to be used to settle debts with lump sum payments. Obviously this lowers your score because your payments are not being made.
The idea here is to withhold all payment, and sometimes even threaten to file bankruptcy on the credit card debt, in exchange for some sort of a compromise by the credit card company.
Sometimes this works and sometimes it doesn't.
Debt management companies should tell their clients, but some don't, that this can get you sued.
If you don't make your payments, you're in breach of your contract.
When you breach a contract to pay on your credit card debt, the credit card company can turn the debt over to an attorney to sue you.
Once you're sued, and they get a judgment against you, the creditor can go after your bank account, garnish your wages, and take other action against you.
This makes debt settlement somewhat of a risky business.
You really do need an attorney to do this safely.
Debt management companies also should tell you that whatever you save- whatever the credit card company agrees to write off, results in a tax liability for you – unlike debts discharged in bankruptcy.
On the contrary, if you file bankruptcy on your credit card debt, the creditors are unable to sue you and all of the debt gets wiped out.
Then, you are able to begin rebuilding your credit immediately.
One of the things that people misunderstand about credit card bankruptcy is the effect on credit.
Because I am a certified credit counselor, I have helped my Cincinnati and Dayton Ohio bankruptcy clients to rebuild their credit very quickly.
I've developed a program – a coaching course, actually, that lasts for an entire year after discharging credit card debt in bankruptcy where I help my clients, through a step-by-step process to rebuild their credit after the bankruptcy has been used to wipe out their credit card debt.
If you live in the Dayton or Cincinnati Ohio area, and have credit card debt so severe that you think you might need to file bankruptcy, then you should investigate all your options.
Only by examining all your options will you be able to determine which route is best for your needs.
Because I am a certified credit counselor and a board certified bankruptcy specialist, recognized by the Ohio Supreme Court, I can help you compare all your options – making sure you get the one that's right for you.