How to choose a Bankruptcy Attorney
A Guide to Choosing the right Bankruptcy Attorney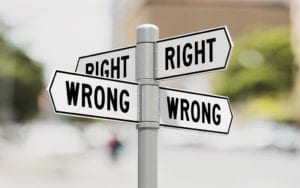 Shop around – Interview several attorneys. Most offer a free consultation. We encourage you to visit another attorney's office, since lots of our clients tell us how much better our attorney's consultations are.
These are some questions that you can ask an attorney to see whether or not they are the appropriate one for you. These are just some suggestions, you may have other questions that are more specific to your particular situation.
Attorney Questions
Does the attorney practice exclusively bankruptcy law? Or, is the attorney a general practitioner or a jack-of-all-trades?
Bankruptcy law is a complicated practice area. In order to provide the level of expertise that you desire, you may want to consider only attorneys that practice bankruptcy law exclusively. You can tell this by the attorneys who advertise that they limit their practices to debt relief, or bankruptcy. The Supreme Court rules for attorney advertising are very strict. If an attorney advertises that he limits his practice to a specific area, then he must actually do so.
Does the attorney teach or lecture on bankruptcy matters?
Attorneys with extensive knowledge in a practice area often teach or lecture on the subject matter of their practice. If the attorney you are considering teaches or lectures, this is generally an indication that the attorney has a high level of knowledge and expertise in his practice.
How many bankruptcies does the attorney file in a given month?
Attorneys who have high levels of expertise are generally busy practitioners. One indication of this would be the number of bankruptcy cases that the lawyer's office files in a month. This is not to be confused with the number of bankruptcies that the attorney has filed over his entire career. What you are looking for is current information, how many bankruptcy cases the office handles today, not what they have handled in the past.
How many lawyers are in the firm?
If you hire an attorney who is a sole practitioner, there could be a problem if the attorney gets sick or goes out of town. Your case may have to be handled by someone who is not familiar with your circumstances.
How many staff personnel does the attorney firm have?
If the attorney only has one or two secretaries, and that secretary or one of the secretaries gets sick, quits, or has an accident and can't show up for work, how will your case be handled? The attorney's office should have sufficient staff to enable it to withstand these kinds of things which inevitably do happen.
Is the managing bankruptcy attorney board certified?
There is a national certification program for bankruptcy attorneys. Is the attorney that you are considering hiring board certified? See the American Board of Certification at www.ABCWorld.org