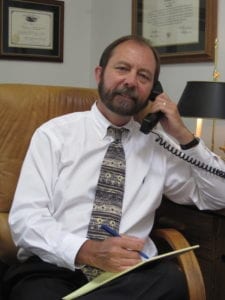 Welcome you to the solution to your money problems!
I'm going to show you how to end the stress, and relieve the burden of debt you struggling with, protect and strengthen your credit, and get the highest credit score in the shortest time.
If you are like most folks I counsel, you're worried.
You have serious debt problems.
Your credit is probably not what it should be, or you know that if it's good now, it will be dropping very soon because you cannot afford to keep making credit card payments.
You know you need professional help.
But – you need to be sure you are getting the right solution to your problems.
It's a difficult situation.
One that keeps you up at night and nags at you all day long.
Being overwhelmed by debt poisons your life.
It is impossible to really feel good about anything,
You cannot live a normal life, because you worry about money all the time.
I know how you feel, because I have been where you are.
You can read my tragic story here on my website, in the "about us" page –
But briefly, I fell off of the roof of my house, broke my back, and I could not work for a year.
I ran out of money fast. And when I couldn't pay my bills,
I got sued,
And, to add to the embarrassment and shame I felt, I was sued by attorneys I knew and worked with.
It was horrible.
I felt like a total failure – like I had done something wrong.
My credit was ruined and my wife and I were fighting all the time.
I couldn't pay those  bills.
And you know what?
I didn't pay those bills.
Ever.
But I did recover.
And, because of what I went through – that horrible experience.
I decided to dedicate my life and my law practice to helping others recover from financial failure.
Help them rebuild their credit, and get their lives back.
Since that time, I have helped thousands of people – probably a lot like you – recover from serious financial problems, – probably a lot like yours – and now they have financial peace of mind.
Their credit is restored.
They have a good, strong credit score
And, they didn't lose any property in the process.
My approach to solving your problems is unique, because I am the only attorney in Ohio who is a certified credit counselor, a certified debt specialist, and a board certified consumer bankruptcy specialist
recognized by the Supreme Court of Ohio.
Because I am trained and certified in all forms of debt relief, not just bankruptcy, I can show you the best way to solve your problems.
I will compare all your options for you.
Then you will know, beyond a shadow of a doubt, that you have the right solution for your problem.
It's just common sense, and, in my opinion, this is the only way to be sure you have the right answer.
My counseling approach clearly shows why it can be so dangerous
to only go to a credit counselor, or only go to a debt management counselor, or for that matter, to only go to see a bankruptcy attorney.
The danger is obvious if you think about it.
Debt counselors and debt management advisors are not attorneys.
They can't compare their programs with bankruptcy.
This is because they are not permitted, by law, to give you legal advice.
Bankruptcy attorneys have the same limitations.
They are not certified credit counselors.
They can't really compare bankruptcy to credit counseling because they're not certified in the non-bankruptcy areas.
You' have heard the old saying – if the only tool you have is a hammer –
everything looks like a nail.
Well, I don't have that problem.
I am certified in both non-bankruptcy and bankruptcy options
So I CAN compare the pros and cons of all options for you.
Once we review all of your problems and all of your options
then I can then recommend the right solution.
If a non-bankruptcy option is the best for you – I will tell you
why bankruptcy is not the best approach.
If you do need a bankruptcy to solve your debt problems,
I will explain why bankruptcy is better than any of the other options.
I'll make sure you know
absolutely and for sure,
beyond a shadow of a doubt,
Which option is best for your needs.
We've blocked out an exclusive time slot just for you to meet on the phone with one of my certified credit counselors.
We treat these phone conferences just like office appointments, it is no different than meeting with us in the office, it's just more convenient for you not to have to drive to see us.
We never double book – the time is set aside exclusively for you.
Please note that this conference is provided at no cost to you, although I bill at $350 per hour when I am charging an hourly rate.
But for you, this is a one-time only free consultation.
If you do not attend this appointment without contacting me in advance so I can let someone else have your spot, you may have to pay a consultation fee if you wish to reschedule.
So do not let that happen!
Call us if you cannot be available at your appointment time, so we can reschedule your appointment and let someone else have your time on the counselor's calendar.
To help us prepare for your conference, I'll send you an electronic document you will need to click to acknowledge, and a link to a brief online questionnaire I'd like you to fill out before you meet with the counselor.
The counselor will review it before your appointment so we will be familiar with your circumstances.   That way we can focus on finding the right solution for you.
And – I want to share this with you – I will not waste your time – or mine.
I do not accept everyone who wants an appointment with me.
I only want to work with you if you are really serious about your financial future – and you are willing to follow my counsel, and do the things that I will suggest to you.
My program works.  In fact, thousands of my clients have already achieved financial recovery through my unique program.
So many of my clients have done so well with my program that most of my new clients come from referrals from my successful past clients.  My successful clients are proud to share their success stories with their friends and family members.
If you are willing to invest in yourself, follow my counsel, and want to have a better future, then I really look forward to helping you recover your peace of mind, enjoy financial security and have a strong credit score.
Sincerely,
Rick West